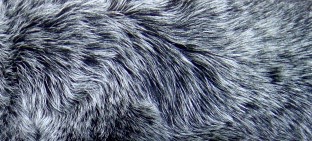 I know I write sad stories a lot of the time but they're the ones that linger in the time that it takes for them not to be so sad anymore. "Don't linger in the sadness, Tim." But sometimes that's the place for me to linger in the love. Just one last sad story about a day that's hard to tell.
It didn't arrive suddenly, out of the blue or out of my hands. It was in my hand, it was my hand that made it happen. I don't know the day's date. Dates of these things aren't something I remember. But I do know the time of day and I know too well what it looks like hanging over my back door, because I'd chosen it – 11am. What I remember more than I want to, is watching its arrival. I'd chosen it and watching it approach was indescribably sickening.
She'd gotten crook. I know, I've written about her before. But stay with me while I tell you one last sad story.
She'd gone off eating and drinking. Seemed to want to but couldn't very easily. Something wrong in her throat. She didn't get any better so we went. "Nothing much we can tell without opening her up." Her words were kinder than this but that was the gist. "We can give her some tablets that'll encourage her to eat and drink. See how she goes." I took her home.
I didn't want her to be opened up. Not fair. Maybe there was something in there they could fix, but she was an old girl now. When she'd had her op they said she'd be fine in a couple of days. But she wasn't. It took a good week of nursing for the young girl to find herself again and I felt bad enough then that it had been at my hand.
Lucy was still Lucy. She'd still follow me from room to room hoping to whoever a dog's Christ is that I'd just stay in one place long enough to rest. But I was getting anxious.
She still slept in her guarding places. In the hall, with her eye on the front door while I worked at my desk. By the front door while I was in the lounge or by the back door in my kitchen. And on the floor by my bed at night. Bless her. She hardly had the energy to get up but she hung on to the responsibility she felt for me right to the end.
Her sleeps became deeper and I'd quietly leave her where she was. When she did wake up, she'd come-a-hunting for me and only rest again when she found herself near to me, again. She wet herself in her sleep and was really embarrassed by it. I reassured her, "It's okay Luce, don't worry about it. You're a good girl." But her eyes showed her shame. She had pride.
I wasn't in denial. I just wanted to give her some chance to get better. But I suppose that is denial. I just couldn't imagine my world without her.
I stayed with Lucy every moment in the coming days. That was what made her feel the best, to have me right beside her with the worry off her mind of where I was. And she loved me. To be with who you love in your final days is where you want to be. That was the least and the best that I could do for her.
I had to stop moving about the house trying to distract myself. My anxiety was of no good to her. A few years back I'd started a project. Decided I'd finish it. I'd cut out plyboards to cover the ugly tiles in my kitchen. I'd primed them and I had a design in mind all along making use of some old posters I'd kept. I just hadn't done it. That's what I'd do. I'd drag them out and finish them. In the kitchen. Working on the kitchen table with Lucy beside me on the kitchen floor. Listening to the radio.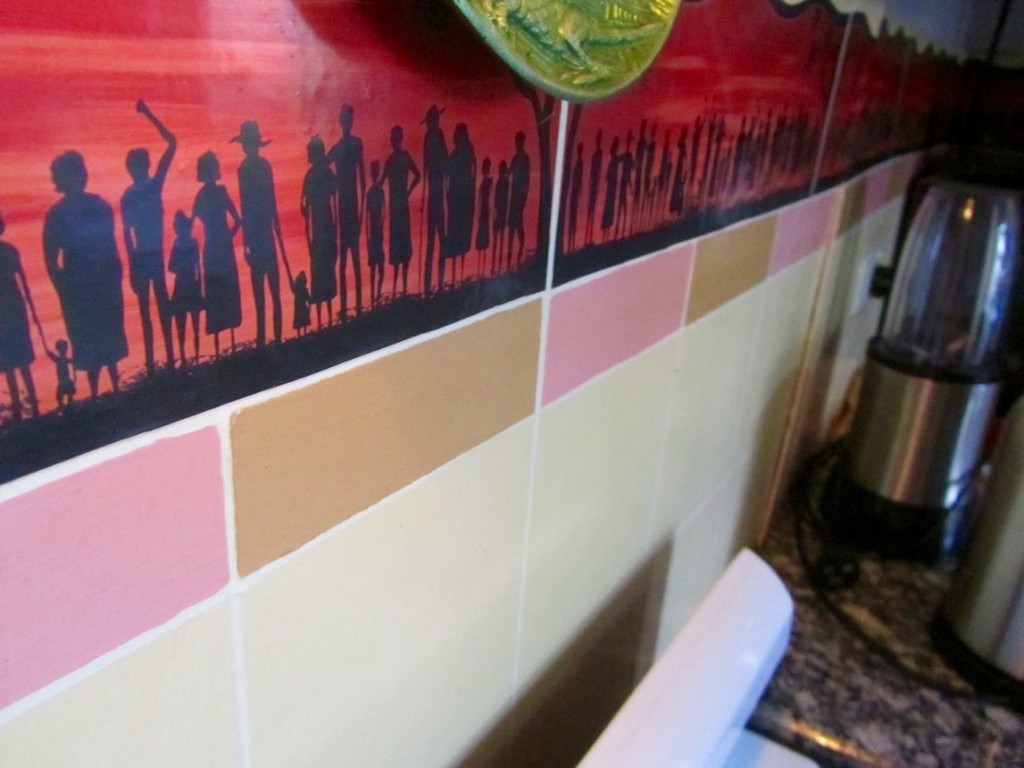 It took me about three long days and nights to finish them. It was warm enough to leave the back door open and let the breeze brush in and bless her face as she lay on the lino floor, eyes to the back door, looking into the night. Painting is a peaceful thing to do. I worked finely and accurately, slow strokes, no rush, as if I had all the time in the world, that I didn't. I fell into that painting. I let it buy as much time as it possibly could. I matched one of the colours to the tip of her pink tongue and I let the breeze pick up her hair and land it in the wet paint.
They were long nights with little sleep. The meds she was on definitely turned up her thirst. Her need to drink and wee would get her up. I'd put down my brush and go to her and hold her bowl at head height to make it easier for her. Or I'd walk with her in the dark out to her spot in the garden and turn away while she wee-ed in private. I was just as much listening out for her now as she was for me.
The work was finished. It had come to an end. I was pretty exhausted and really needed sleep. That night I took her up in the car up to Lawrence's. She got just as excited about going in the car as she always had. Just had to help her up. She was even more excited when she found out who we were going to see.
I have to admit to you, for me it was to get a break. His bedrooms were on the second floor and she never would go up those steep stairs. I could have some distance. She lay downstairs on the cool of the tiled floor by the stairwell and I did, I just turned off, with the company of someone who understood. And I got some decent sleep.
In the morning we went home. With reasonable sleep I saw sense and reason. We were at the end of the road, the last stop. The painting was finished. This is where we stood. It was all in my hands now.
Thing is we'd been here for a few days before I'd allow myself to see it. Lucy wasn't going to get any better and she wasn't going to give up on what she felt she had to do for me. I had to do this for her. But this had all come up just a bit too quick for me. I thought there'd be a couple of more years yet. No. This was it. Every dog has their day and hers wasn't going to be put off for any longer.
I rang and asked if she could come to my place tomorrow. She gave me options of as to when she could come round. I chose 11 am without thinking too much about it. I could sense from her without her saying so, that she thought I was doing the right thing. She'd seen us just the week before and looking back I can see that what she'd given us was more time. And for that I'm thankful. Time that I needed to arrive at and make this decision, as mine. And I'm thankful that I didn't put it off for any longer.
I rang and told Lawrence. He didn't believe it either. No. It's what's got to be done. I'd like to be on my own with her. I'll be all right. It's how I want it to be. I rang and let a few other people close to me know about tomorrow.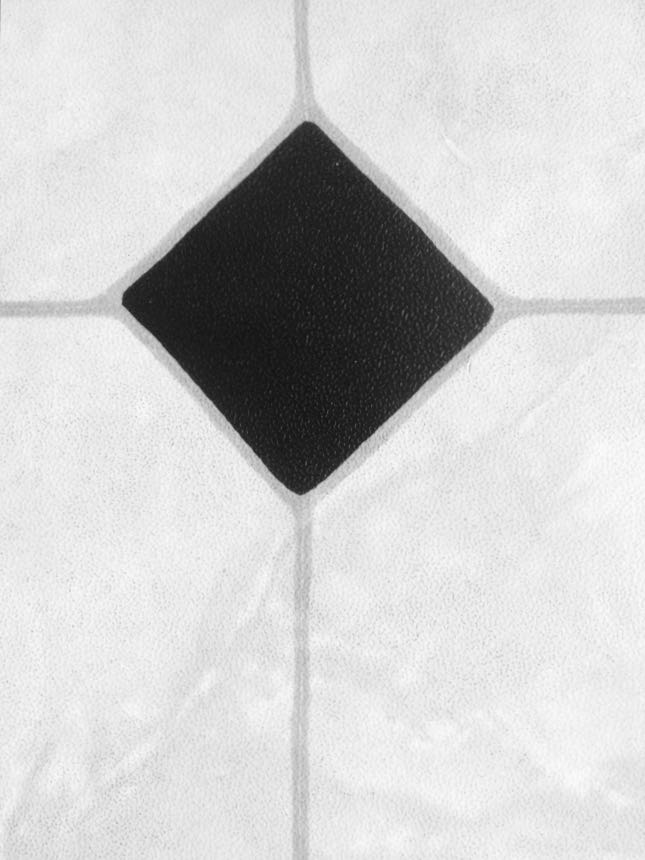 Time started to make its mark. Today would be Lucy's last full day. Tonight would be our last night. I cleaned the kitchen thoroughly and manically. Put the boards in place and they looked beautiful. I gently decided that the kitchen would be the place and from the comfort of these surrounds we watched our last sun go down together, out the backdoor.
I didn't really have a plan. You can't really plan coping. You just cope as you roll. And I just let the night roll on. About 8 o'clock I went and lay on the lounge with Lucy by the front door. I fell asleep. Just for a couple of hours.
About 10 o'clock I felt a little nudge. Lucy's nose on my leg. I stirred. Then another little nudge. I sat up half asleep. Do you want to go out? I opened the front door to take her but she didn't want to go. She stood inside the door, tail a-wagging. "No. I don't want to go out." She didn't want a drink either. I'd stopped the pills the night before, wanted to let her just to be herself and find her own peace. She just didn't want me to sleep too long. She didn't want to be on her own. She wanted my company. Sure thing Luce.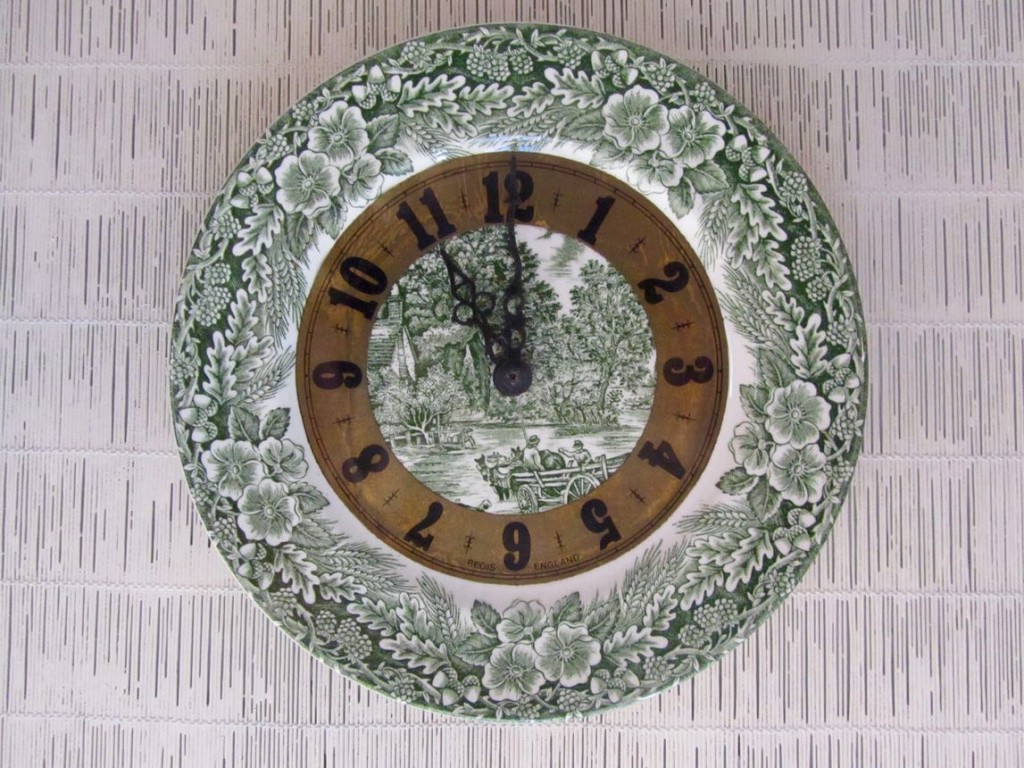 We set up camp in the kitchen. I moved away the kitchen table and laid down a mat for her. I didn't want her getting up anymore. I got out my swag and a pillow and I laid it down right bedside her like we had done so many times before. I looked at the clock above the kitchen door – 11pm. This is what the clock would look like twelve hours from now. Facing this clock and watching it moving forward, both terrified me and helped me in a way to brace for the inevitable. Time was not going to stand still. In the stress of realising this, I reached for my guitar. It would comfort us both and it might keep my mind off that clock.
I've always said my two best friends are my dog and my guitar. Most of the songs I've ever written were written throughout Lucy's life, from when she first came to me after the loss of my partner. She knew my songs, every single one of them. She was as much a chord or a note in all of the songs. She had been there with them all from their beginnings. My dog, my guitar and me. She had fallen in on them all just like her hair had fallen in on my painting. She was used to the long hours on end I'd sit at the kitchen table writing and singing my songs or at my desk writing my stories. She was in on every one of them. She was my companion.
I just started playing. All of them. Every single one of them. Over and over while she rested. If I didn't have my guitar in my hand I probably would have hugged her all night. She wouldn't have liked that at all. If I'd cried it would have upset her. She liked this. Tim playing the guitar while she slept.
Her head was down, her chin flat between her too cute front paws. Her eyes were closed while I played. She looked to be deep in sleep but when a song ended and I'd pause, that right eye would open and look sharp at me, "Watchya stopping for?" To rest her more I'd play some more. And more. All along she was listening with her eyes closed but her ears were up. I realised that for as long as I was playing and singing she could close her eyes and hear with her ears where I was, and that I was right beside her. The music kept us connected while she rested. I know that if I had've fallen asleep again, she would have woken me up again.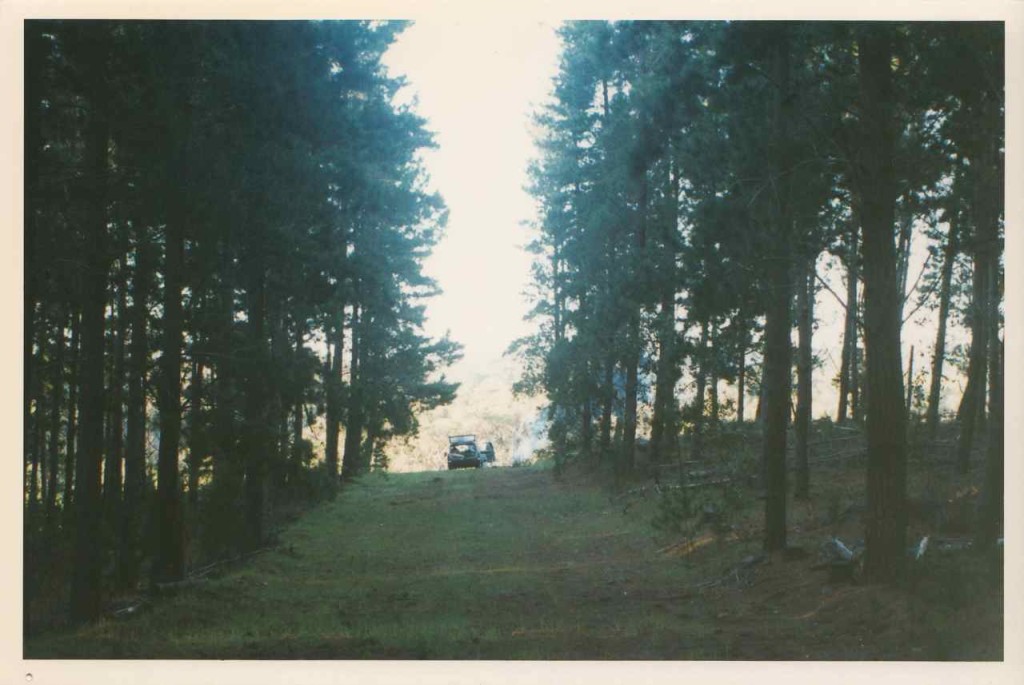 I don't know all of what happened in those hours, playing and singing until morning, or how my body even managed to. But we went to places, memories of a life shared, entwined in words and melodies. And places came to us. The walls of my kitchen fell away to eucalypt trees and the ceiling opened up to the blessings of the moon and the night sky and a river ran beside us. I remembered through the good times, particularly our year on the road and even managed a few laughs. Like when she dragged a dead kangaroo into the back of our station wagon. "Remember that Lucy?" That right eye stabbed me again. She remembered. We were somewhere in the scrub of South Australia. I woke up to this stinking smell at my feet and had to fight with her about not taking it with us. She still held a grudge about that.
And I remembered other times I'd sung like this before. Like when Matthew was sick in hospital and not up to talking. I'd quietly sit in the room and play my guitar. In moments of silence and with his eyes closed he'd gently call, "Sing bubba. Sing." When Mum was sick and we were alone, I'd read to her. When I first met Lawrence and wanted to tell him my story, I told it nervously by singing all my songs.
Morning came. The arrival of light scared me. I saw its first glow on the mighty gum that stands framed by my kitchen window, further down the way, taller than the houses. My morning welcome. But not this day. This day would take her. I wanted that sun to retreat, leave the tree in darkness. Give me more time.
The clock marked 6 am. There'd be twelve hours of light to this day but only five hours left of her life. Too exact. Very hard to fathom.
The morning stirred her too. Her impulse was to get active. The kettle boiling triggered her to try to get up for our cup of tea on the back porch. "Not today Lucy. Rest. I'll have it here with you." I sat back down on the floor, picked up my guitar and I played just the little bit more that I could.
Delirious. I was. The light of day was like a weight upon me pushing me to want to crawl into a hole. I couldn't think straight. All the songs were singing in my head, they were playing themselves now. I couldn't play them any more. The fogginess I felt slowed my brain and anaesthetised me from my feelings. I sort of lost contact with what was going on. I was emotionless. Depleted. I lay down and reached out my hand and gently stroked that deliciously soft fur on her head while we both rested a little more. Her one eye on me and my one eye on that clock.
I can't recall much of those last five hours. Did I sleep? I wouldn't have. But I was so low, so tired. That need for a break was sneaking back in on me again but I was so ashamed of it that I knocked it back with a swing of anger. How could I feel like this?
There were phone calls. "I'm all right. I'm just so tired." "We're thinking of you."
I've never known time to disappear like those last five hours did. All I was doing now was just trying to keep things together. Always the one who kept things together. But keeping things together is a barricade to what you're truly feeling.
When the clocked marked 10am I started to unravel. One hour? She was here right now, but would be gone in one hour and she didn't know it. I wasn't going to say goodbye until the last moment, until it was time to say goodbye. Lucy knew what goodbye meant. That I'd be leaving her.
Riding the time of that last hour was the hardest. At about quarter to eleven, I lost it. I rang the right friend and the barricade burst. "They're going to be here in fifteen minutes!" were the only words I could muster amongst my waling. "Oh Tim. You're doing the right thing." It really helped to let things out before her time arrived and to not let these things out on her.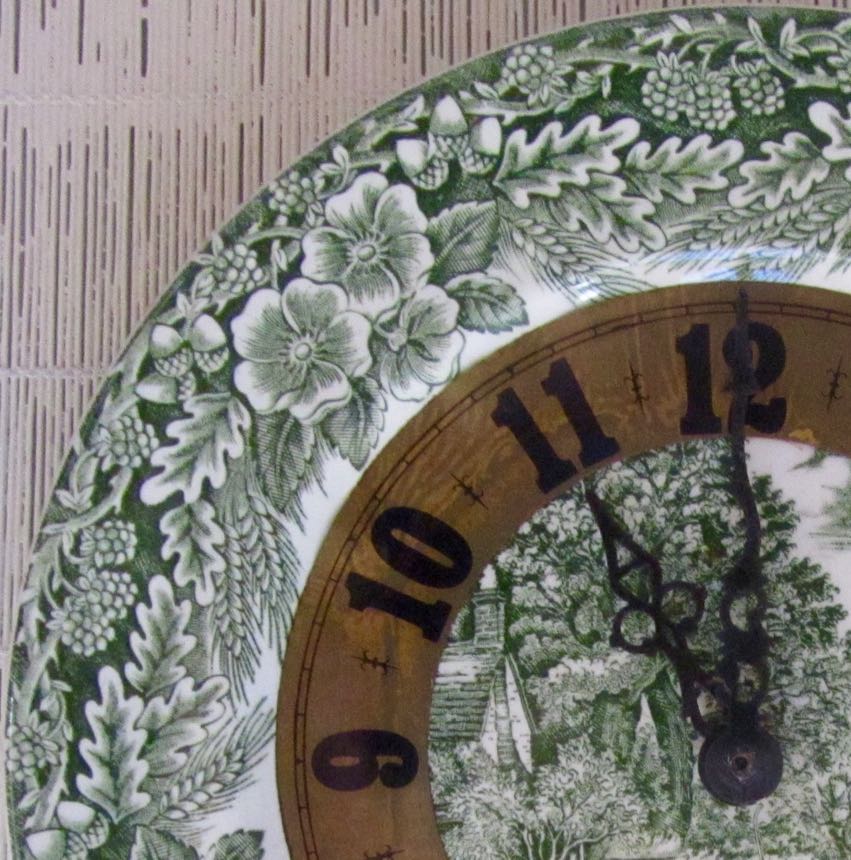 They arrived precisely at 11am. I was watching out and saw the small van pull up in front of my house. I went to the door to 'welcome?' them in. Two women. Lucy couldn't have heard us at the front door or she would have gotten up. But when I came down the hall and she saw behind me two visitors, she did get up quick smart, without too much of a struggle at all and went to the woman she knew as they came into the kitchen. The vet smiled, "Still got to welcome the visitors, don't you girl?" And she spent some time with Lucy right there, patting her and letting Lucy smell them both. Vets really do know dogs so well. Their ease with this situation, her acknowledgement of Lucy's welcome and their knowing of dogs and dog relationships was very reassuring. Again, I was in the company of people who understood. And that really helped a lot.
She explained to me what they were going to do, how this was all going to happen. The younger woman, her nurse, stood behind her, and was not nearly as comfortable or as used to this situation as her and said very little. It wasn't needed.
When I'd first called to come round, she'd asked me what my plans were to do with her body. Buried at home? Incinerated alone with her ashes returned? Or incinerated along with all the other dead dogs and pussy cats? I was fondest of the last option, fondest that she wouldn't be alone. I didn't need her ashes, they were already scattered in my memories. But I asked if afterwards we could have some time alone. She just asked that I bring her to the surgery within the next few hours. A bag was provided.
We lay her back down. She was happy to rest again. They faced her away from them and into my eyes. I sat down on the floor with my face up close to hers and looked deep into the bottom of the pool of her open black eyes that looked back into mine. I had a flash of looking into my mother's eyes and Matthew's eyes in this same last moment. I said very little, the connection was there and it was strong. I gently stroked her forehead and that deliciously soft fur of hers and told her what she most liked to hear, "You're a good girl, Luce." Her tail gave a thump. "I love you my girl." And the vet said, "She's gone."
I felt relief drain right out of me in that moment. Was this allowed? Her words reassured me, "It's a relief for both of you now." It was. The timing was right. They left. I sat with her and cried. For my sake.
Lawrence came down to say goodbye and I returned to coping mode. There was still duty to perform and he needed his turn at wailing.
We wrapped her in a sarong of red, black and yellow. She was a dingo girl after all. And Lawrence placed in her shroud, eucalyptus leaves and a crystal, for her burning.
There. I've told the story. Yes it's six years since and yet another sad one. But I've always wanted to tell this story and now it has been told. And guess what? On this day of these final words that clock above my kitchen door has stopped for good. Time to take it down and get a new clock and give 11am a new look.