There was a time, some of us remember and others need to know about, when AIDS wards in hospitals were waiting rooms for the dying. Medics tried desperately to stop people slipping through but it was only ever a matter of time and there was nothing that could be done to save these people's lives.
When I look back, I see an aftermath of war, bodies lying everywhere. Lives blown apart by blindness, insanity, breathlessness, leglessness and disease. People racing time to patch up love, lives, families and the past.
The beds all rested men.
They'd walked in sick, gone to a four-bed ward, gotten sicker, gone to a two-bed ward and finally to a private room in time for a private death. The closed doors to those rooms eventually opened for what remained to come out and for the next to go in. You really felt it when someone new was admitted to the ward, what they yet didn't know, that they probably wouldn't be going home, that they'd taken their place in the queue that had now moved one place along.
Death was rarely spoken about and yet it was only ever a wall away. There was comfort in lovers, friends and family but some men had none.
You'd leave alone a mother crying in the kitchen over making a cup of tea, time to gather herself to go back in. What could you say? There was little comfort in facing the truth.
Amongst it all though, there was camaraderie, jokes and talk of, "When I get out of here…", anger and fear.
Those men that I met are gone, bar one survivor.
There's a photo that I keep in a book. Me, him and two other fellas at a gallery opening, laughin' up. Those three fellas are gone. Those three fellas were gay Aboriginal men. Why didn't just one of them survive? Why wasn't one of those deaths mine?
We have to acknowledge these times, that people experienced this and that it was awful. We still need to talk AIDS and with those whose lives it hasn't touched. I think they'd like to know. History has a habit of covering things up.
This song, Poor Johnny Low Count, was written in that time when many of our friends were leaving us.
Recorded live, straight to mini disc. Closing story and song, His Spirit Flies, songs and stories of Death and Life. New Theatre, Newtown. Sydney Gay Games Cultural Festival 2002. Poor Johnny Low Count was first publicly performed at Sydney AIDS Candlelight Memorial, 1997.  Recording credits : Peter Northcote (guitar), Leon Gaer (bass), Ian Bloxom (drums), Tim Bishop, Helen Anu & Sam Barsah (vocals). Mastered by Ted Rudduck. 
SONG LYRICS
"There's a photo that I keep in a book."
Matthew Cook, Tim Bishop, Garry Darcy, Malcolm Cole © Brenda Croft 1992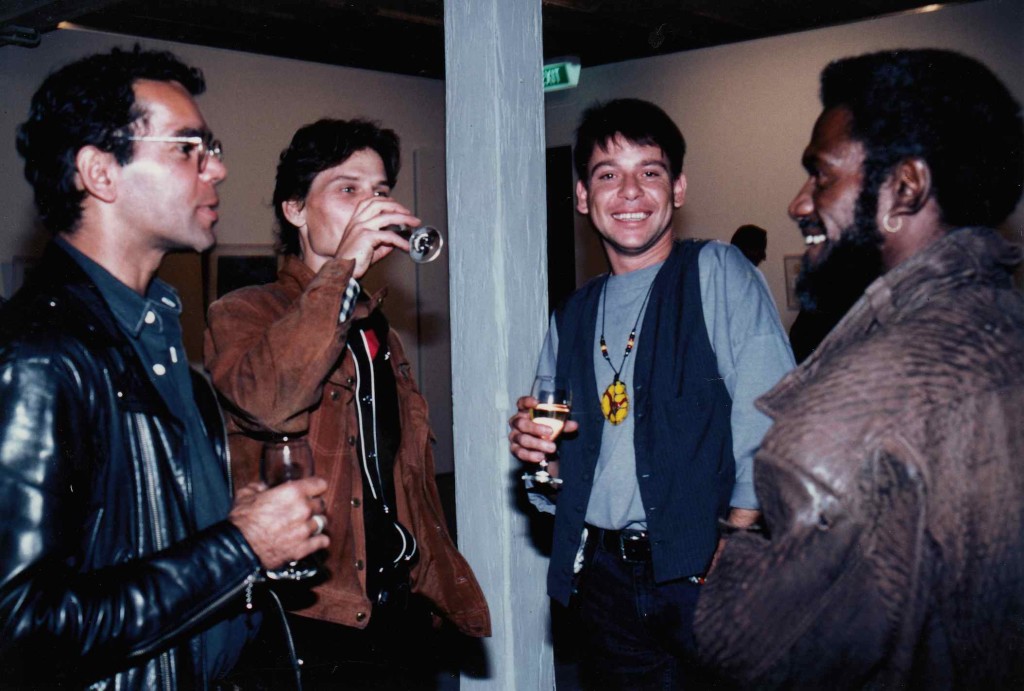 All Rights Reserved